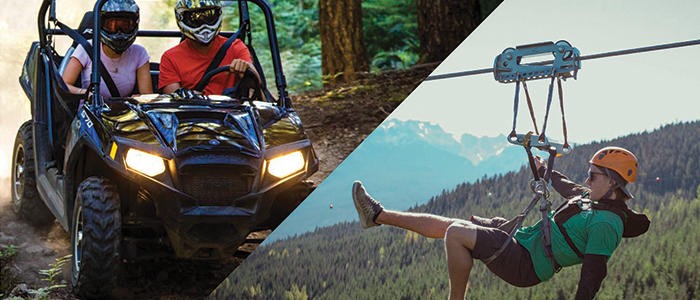 Fly & Ride Combo – Beginner RZR Tour
Craving adventure? The Fly & Ride combo is for you. Start your day soaring through the sky on Superfly Ziplines, the World's Most Spectacular Ziplines. After you've flown above the forest, drive through it on a no-nonsense afternoon RZR journey on the Wilderness Ride. The Fly & Ride combo is the best way to experience the Whistler backcountry.
---
Details
Superfly Ziplines
Duration: 2.5 hrs
Departs: 9:00am
Wilderness 2 Hour Beginner RZR Tour
Duration: 2 hrs
Departs: 12:00pm
Price: $229.99 / Person (ages 13 & up)
Price is based on a passenger booking with every driver. Want to ride solo? Give us a call for options!
---
Minimum weight 60 lbs (27 kg) and maximum 250 lbs (113 kg).
Minimum height 4′ tall (122cm) and must fit an XXS D.O.T. helmet.
---
Prepare for Adventure
The Fly & Ride Combo is 4.5 hours in total adventure time, please bring a snack or lunch for in-between adventures.
We have running water, complimentary lockers and washrooms for your use tour Cougar Mountain basecamp.
Tours will run in all weather conditions unless it is unsafe.
Please drive yourselves to our Cougar Mountain Base Camp for check in.
All tours are fully guided by professionally trained guides.