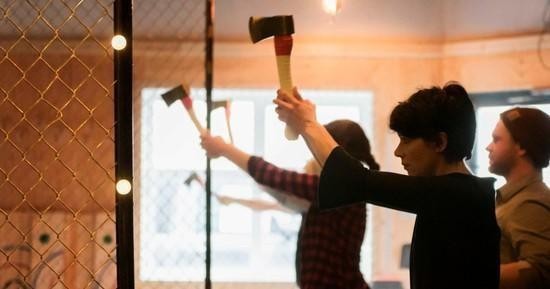 Axe Throwing
Let us introduce you to this great sport!
Book a session and get ready to discover your new favourite pastime!
Rates
Monday – Thursday: $37.99CDN/Player
Friday & Sunday: $39.99CDN/Player
Saturday: $43.99CDN/Player
Holidays: $44.99CDN/Player
Duration
1 Hour (please arrive 5-10 minutes before your session is scheduled to begin)
About
Book in for an hour session with one of our incredible coaches and let us introduce you to this great sport and guide you through the basics of throwing an axe and hitting the bullseye! Bring your friends and family, a stranger you met on the bus, a tinder date you want to make a great first impression on. Grab an axe and get throwing!
Groups of 1-3: Start swinging in an Open Shared Lane
Groups of 4-10: Two Private Targets
Groups of 11-20: Four Private Targets
Groups of 21-50: Ten Private Targets
---
OR Go BIG! Own the venue for 3 Hours of private Axe Throwing!
Perfect for extra large groups. You get:
Four dedicated hosts
Axe Throwing instruction
Trick shot workshop
Facilitated games and tournaments
Trophy for the tournament champion
Tournament page on 81score.com
Maximum group size is 110 Players!
Rates
$2499CDN
Duration
3 Hours
Things To Know Before You Throw
Your group size determines the amount of targets you will be assigned.
— Example: 1-3 people will be on "shared lanes" which can be merged with another group.
Guests should aim to arrive 10 minutes before the start of their session in order to leave time to fill out waivers.
All participants will be required to have closed-toed shoes on.
Our minimum throwing age is 10 years old.
All minors (19 years or younger) must be accompanied by a legal guardian.
We are a licensed premise so beer and other drinks are available for purchase during your session.